Thanks!
Thank you for using Windguru so long.
This is a major upgrade of Windguru after almost 15 years!
The webpage was redesigned to be mobile friendly. Our table, colours and core functions remain and you will find some new functions and services.
Catch the wind!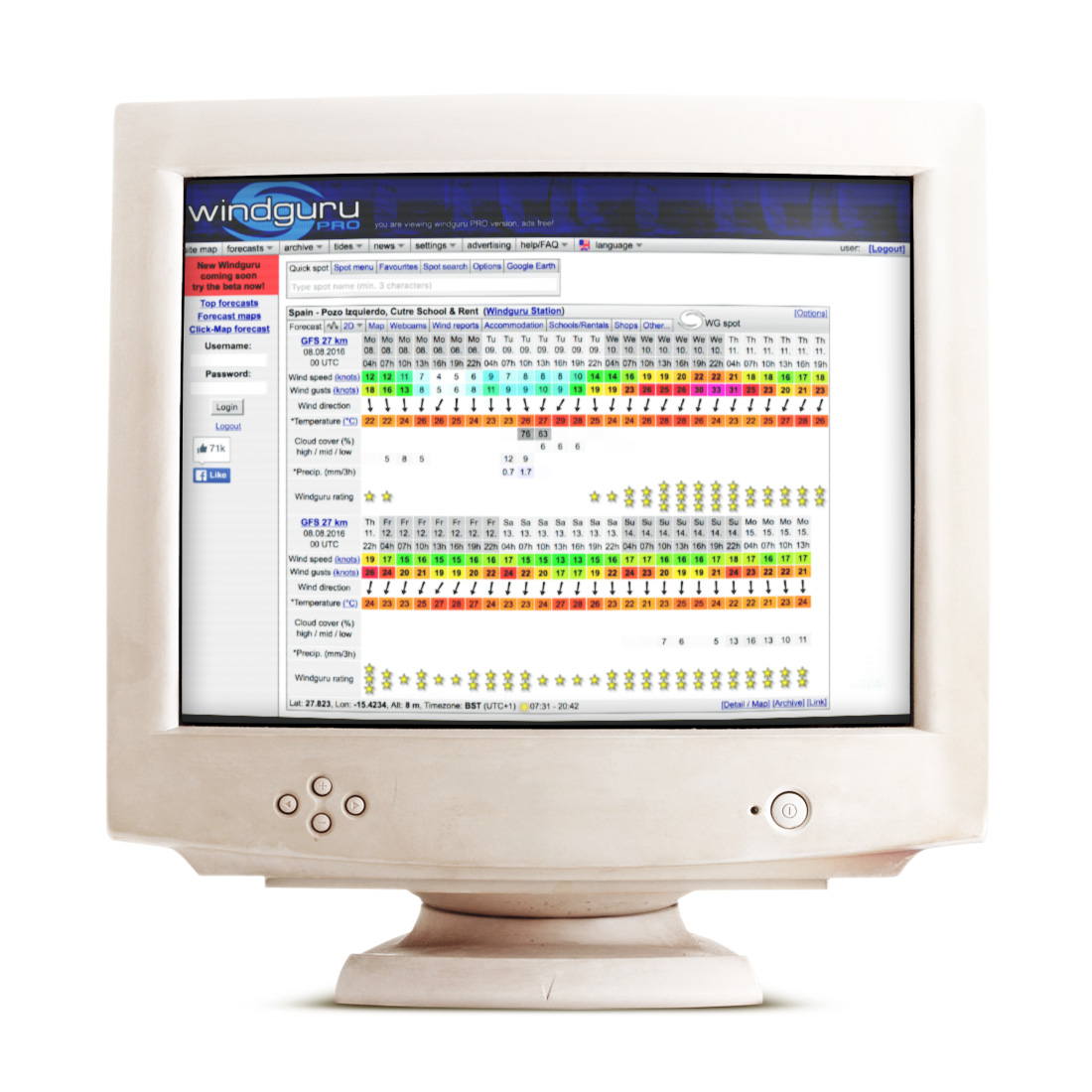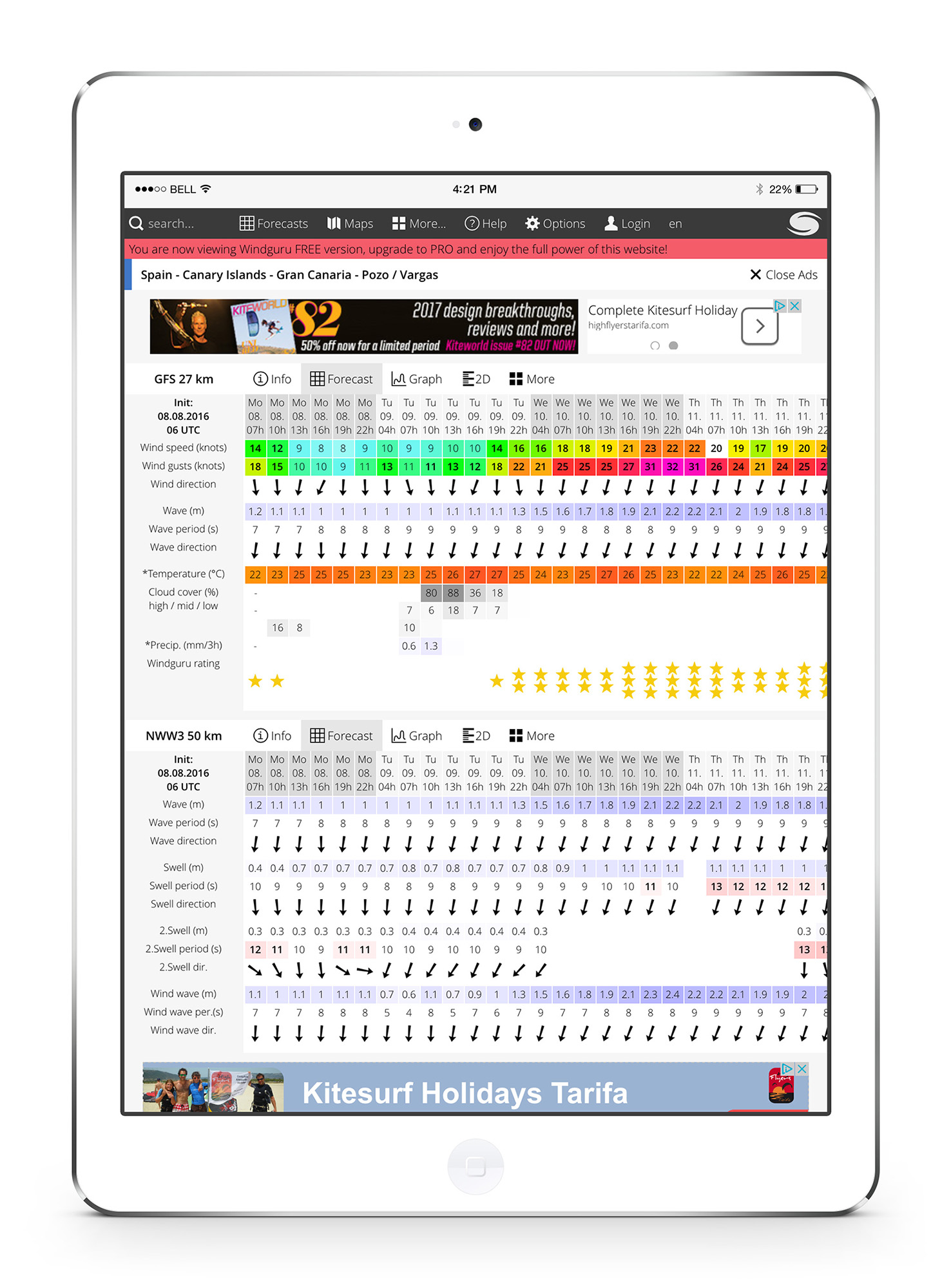 Responsive
From now on you can read your favourite weather forecast on any screen size. PC, laptop, tablet or smart phone.
If the forecast table is too wide you can scroll it by touch or mouse.
Clickable
Most values in the table are clickable. Click the cell to see the appropriate forecast map around the spot.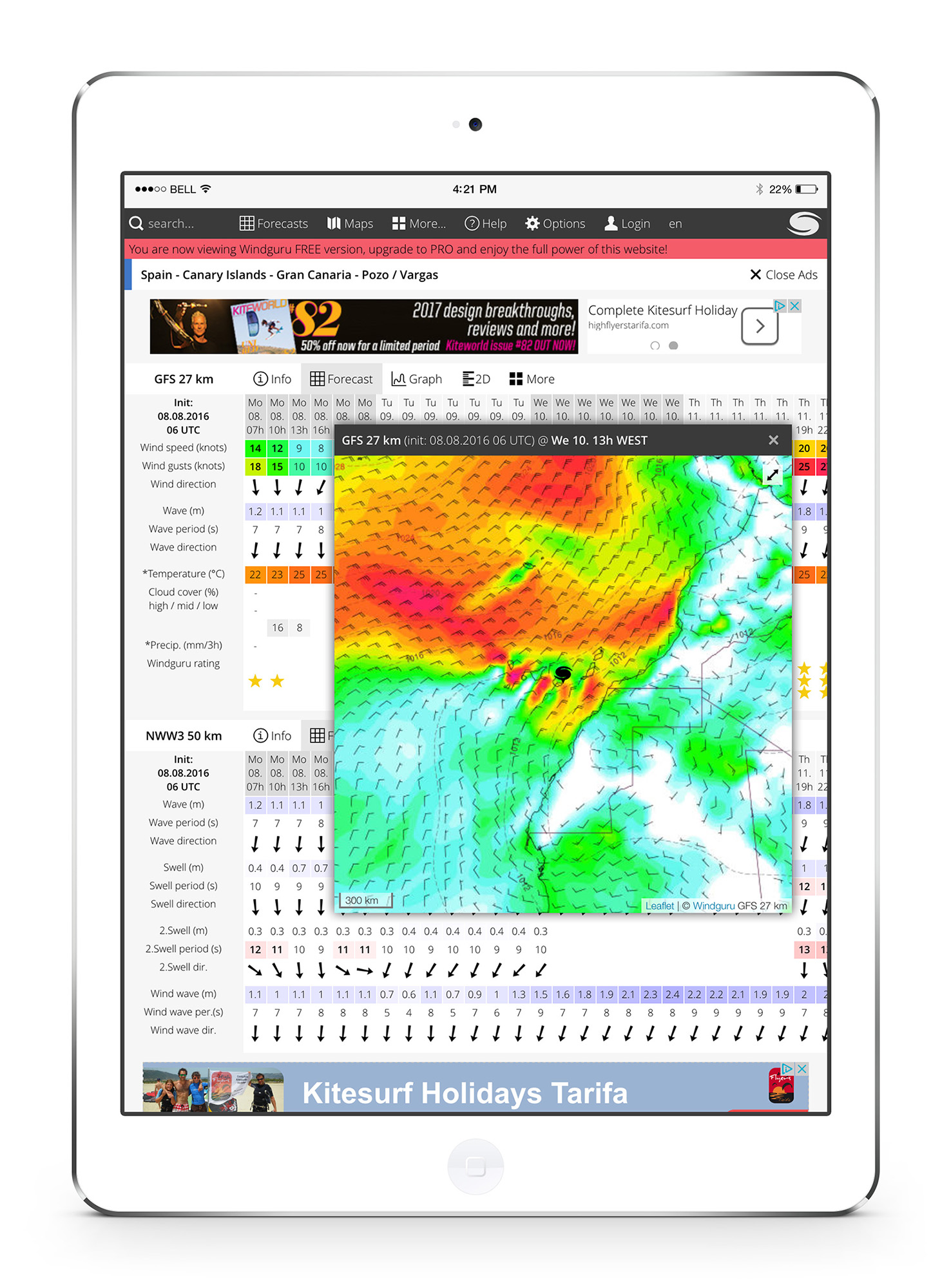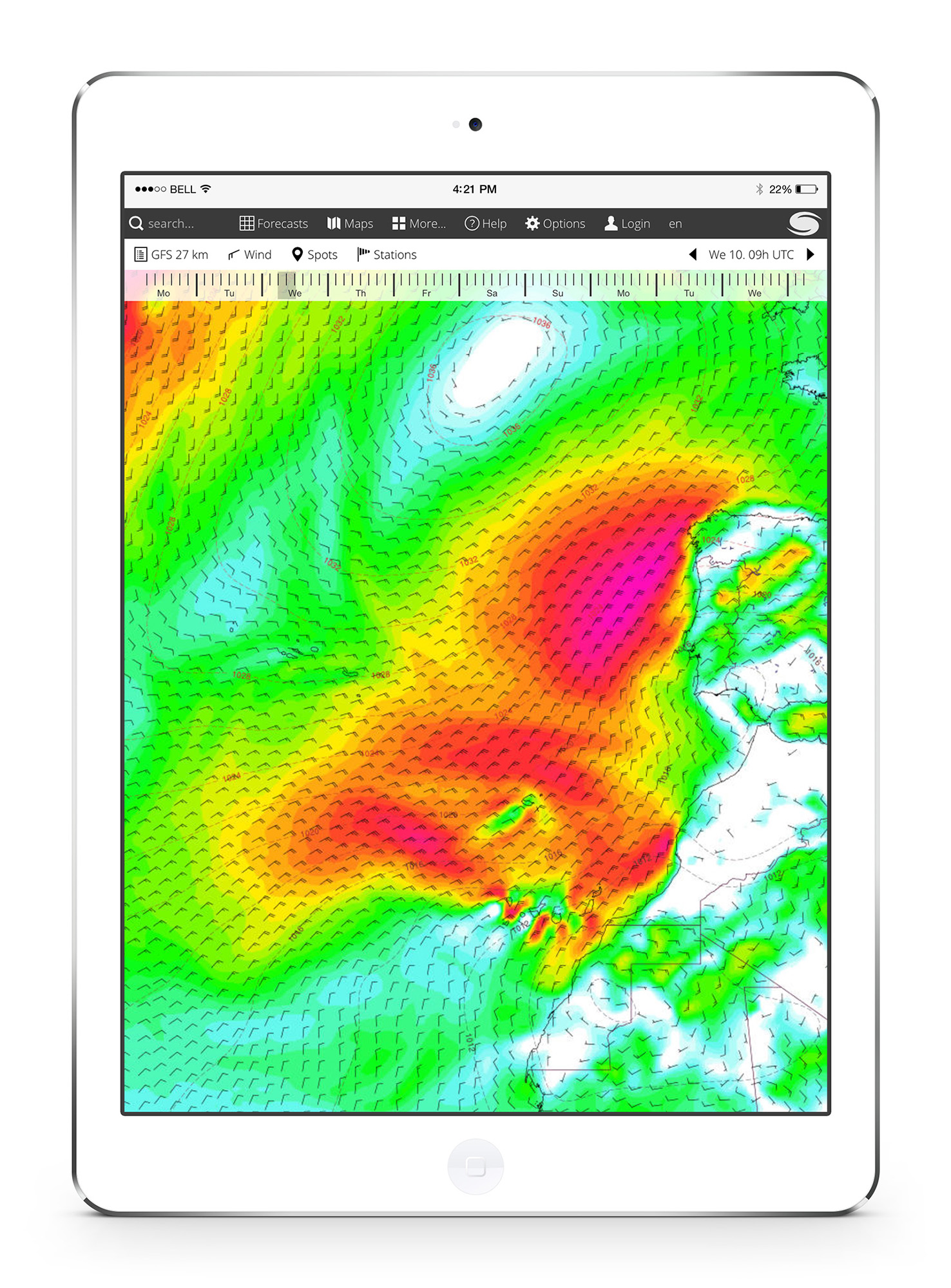 New Maps
Maps are usefull to get a better picture of the weather situation in the area.
We have several forecast map versions, and from now on the GFS forecast maps are free for all users.
We also have a map showing all forecast spots and map showing all live Windguru Stations.
Forecast Graph
Most windguru hardcore users prefer the classic forecast table.
But if you like, you can also view the forecast as a graph. Eye candy... :)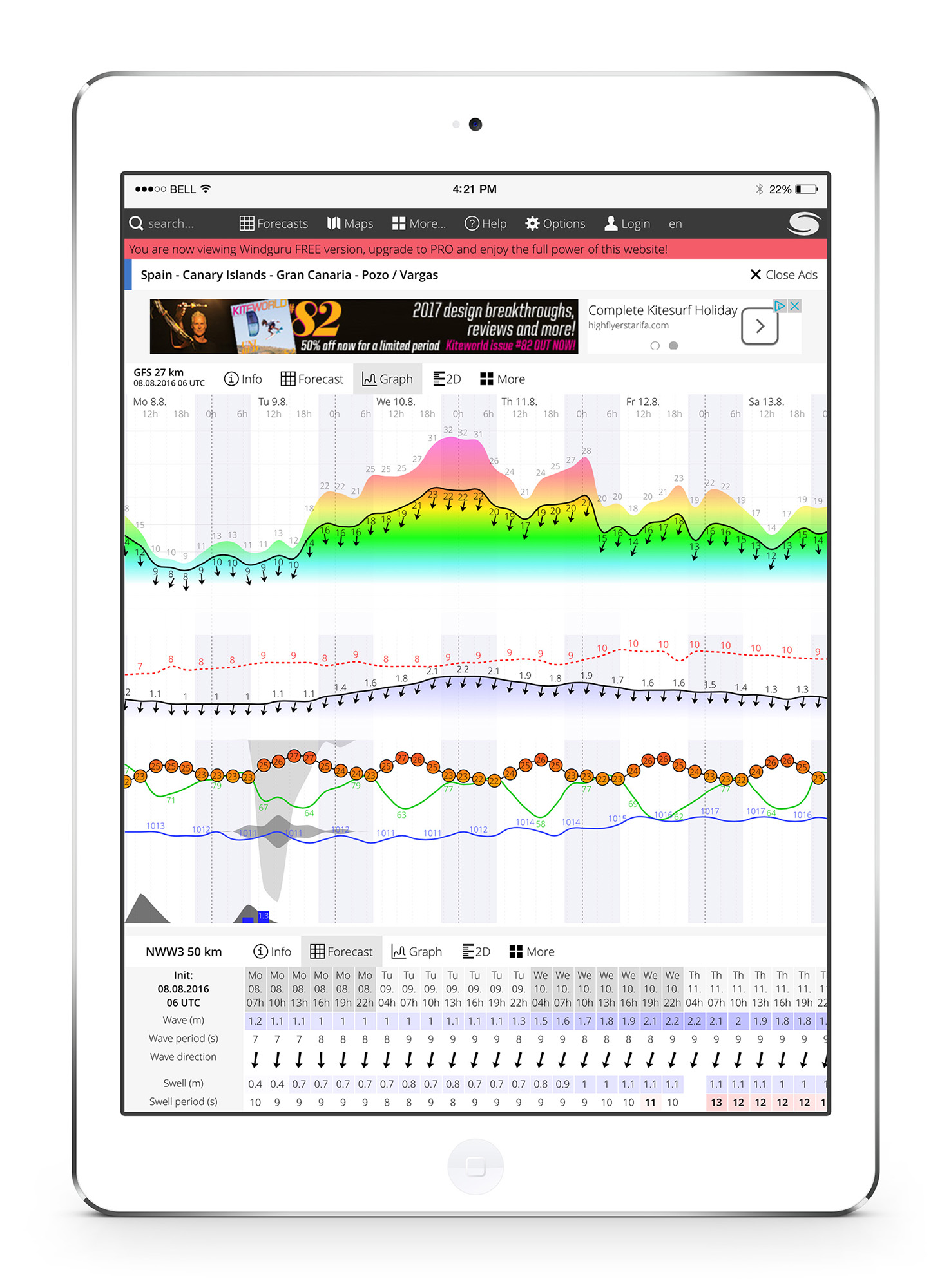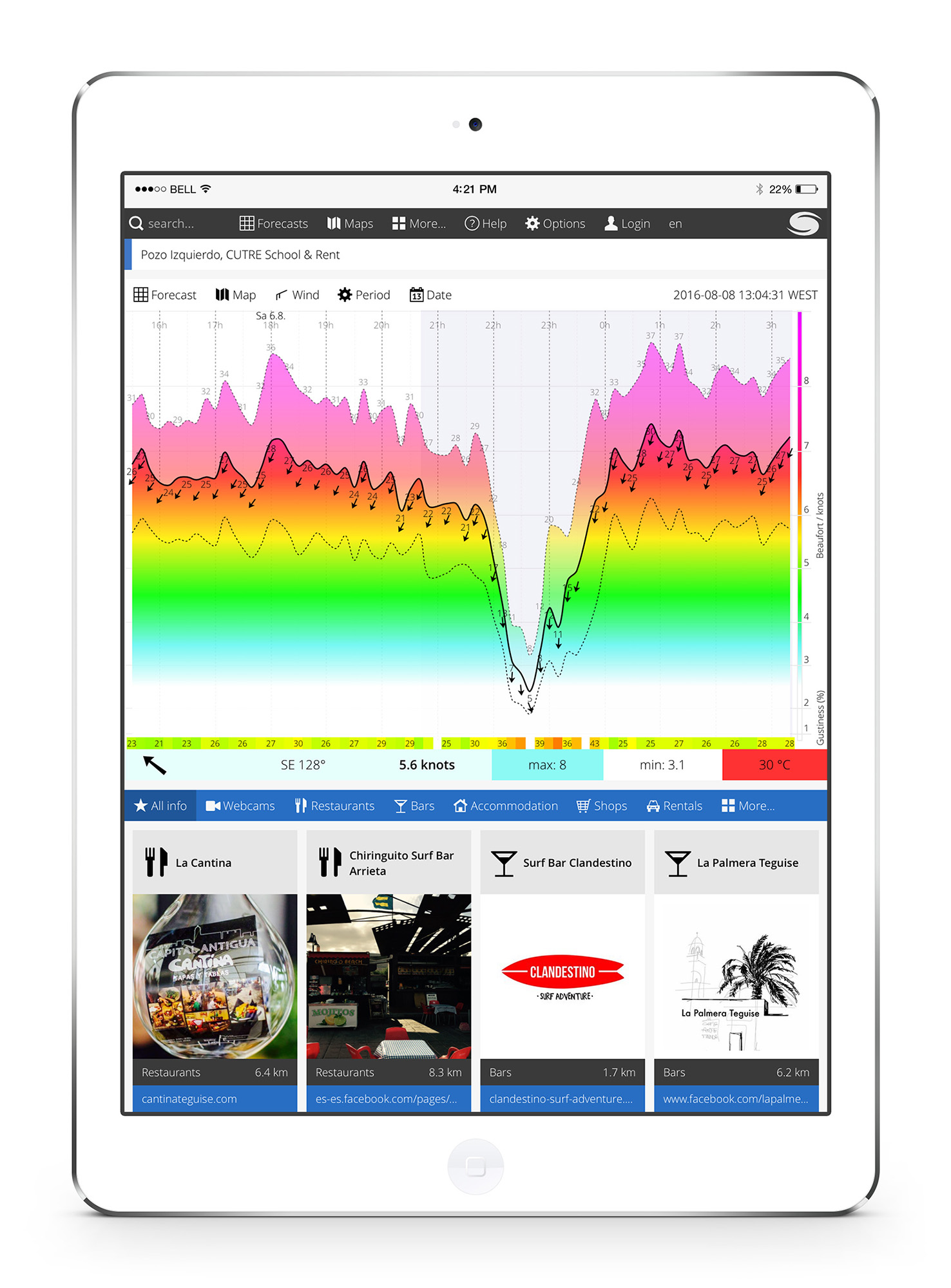 Live Wind
Knowing the current wind conditions is important as well! Our users measure & share live wind data using their Windguru Stations directly from their spots.
It has never been easier to observe real time wind data online. Check out the detailed info about Windguru Station.
Webcams
Check the webcams nearby your spot and get ready for action.
Webcams powered by webcams.travel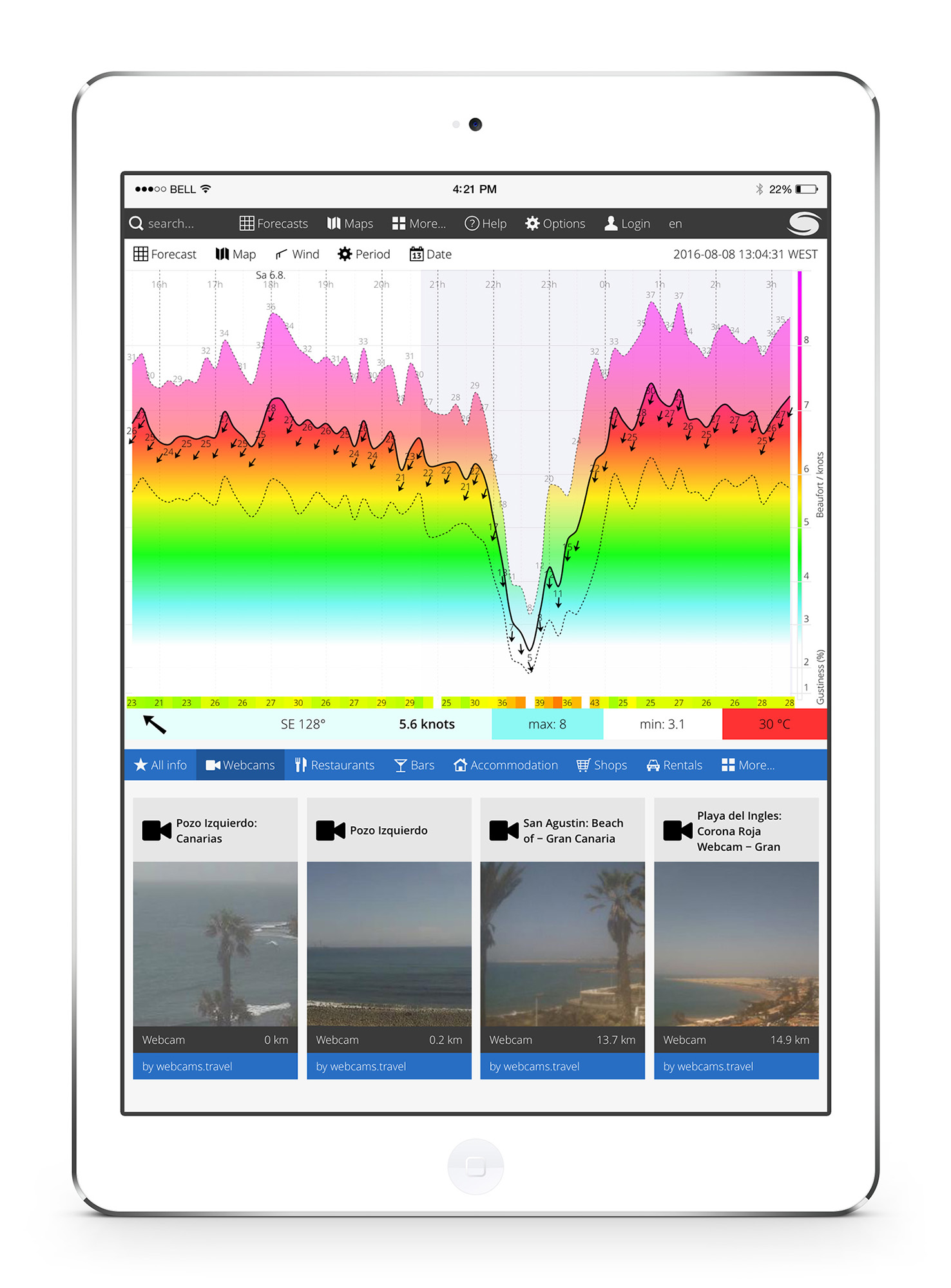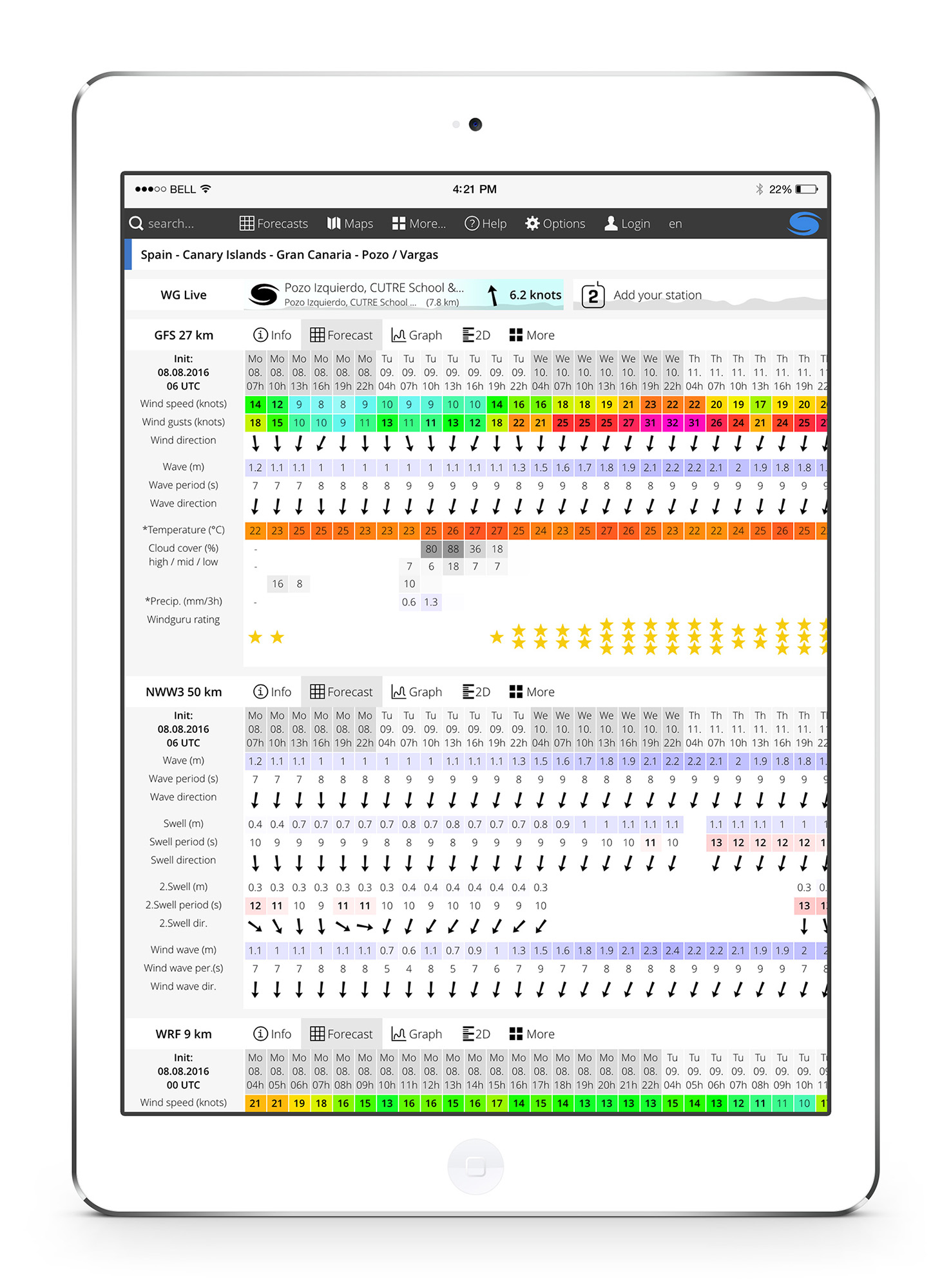 The best of Windguru is available to PRO users.
Up-To-Date / Precise
Windguru WRF forecast
We run our own high-resolution WRF forecast model for the most popular areas. The model with up to 3 km resolution is updated 4 times per day and tuned to achieve the best wind forecasts.
The most recent Windguru WRF forecast updates are only available to PRO users.
No Ads
The free site is powered by ads.
Windguru PRO members can remove the ads and enjoy a clean, fast and Ad Free experience for maximum comfort.
Windguru WRF forecasts for custom spots
PRO users receive detailed WRF powered forecasts for any location (covered by the model).
Define any number of custom spots you want, your home, your secret spot... as a PRO user you will always have the most precise and up-to-date forecasts for it.
You can even click the map anywhere to get forecast exactly for this place instantly.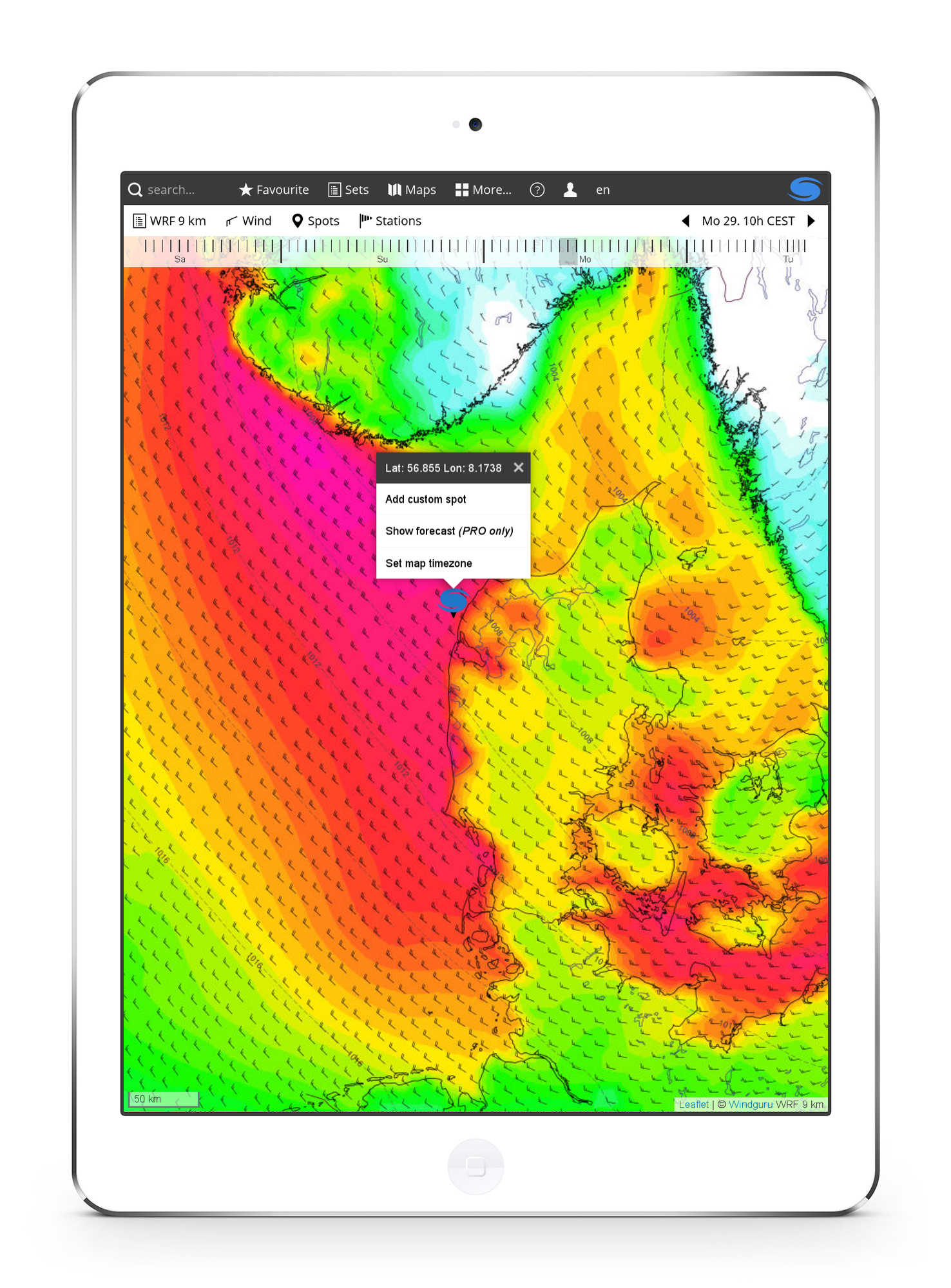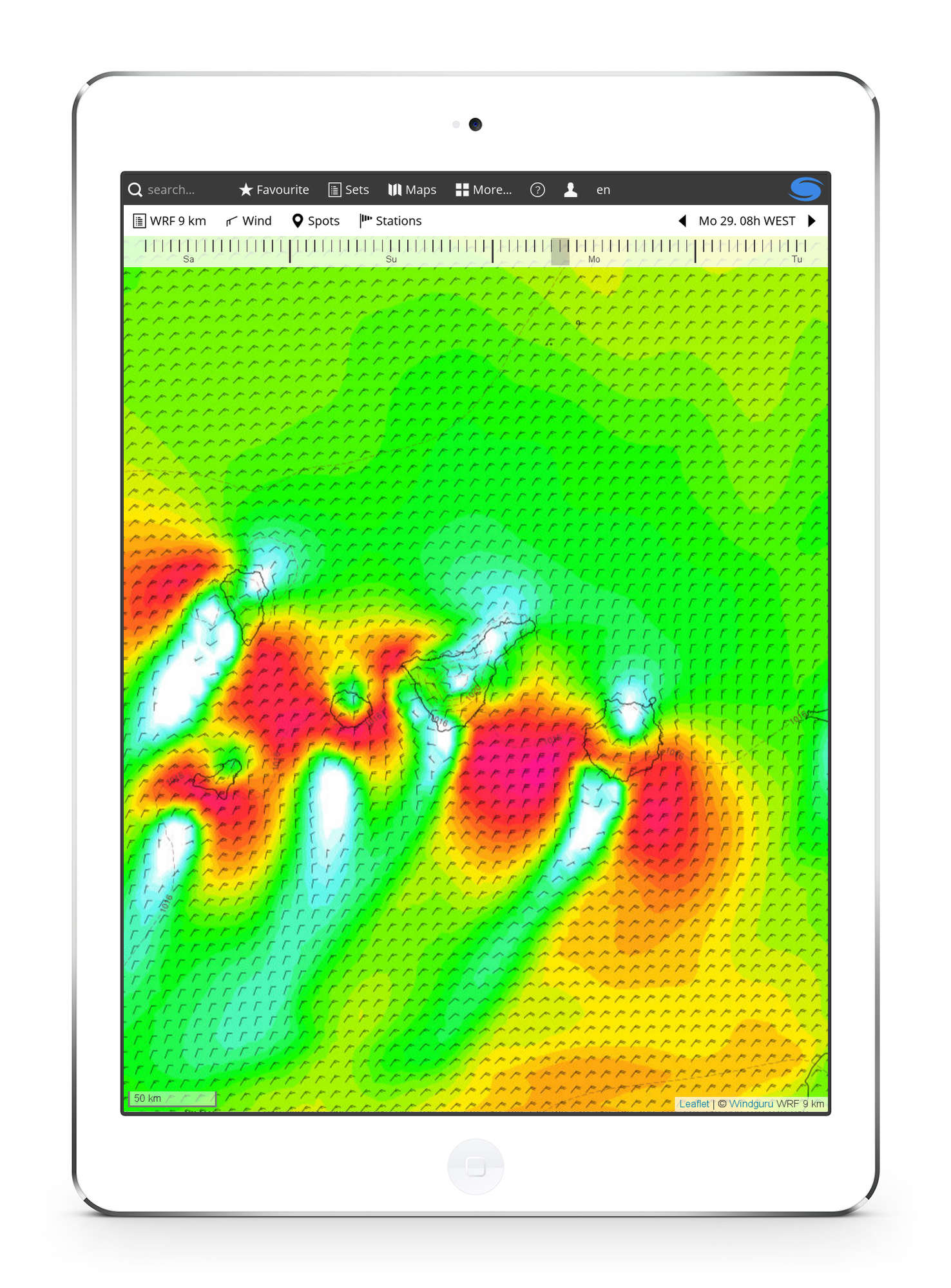 All Forecast Maps
The Windguru forecast table provides a detailed forecast for a specific spot but forecast maps can give you further insight to the wind in your area.
GFS maps are free to all, but only PRO users have access to all the different forecast maps that we have on Windguru.
Windguru forecast models
There are 2 groups of forecast models we have on Windguru, each with different availability to free and PRO users:
1) "Free" models
Are models run by NOAA or models from other public sources: Global GFS forecast model, NWW3 (waves), NAM, HRW...
2) PRO models
Are the models run by Windguru: our own high-res WRF models for different areas in the world
Features powered by "Free" models:
Windguru free
Windguru PRO
Windguru spot forecasts
Yes
Yes
Custom spot forecasts
Yes
Yes
Archives & Statistics
Yes
Yes
GFS model forecast maps
Yes
Yes
Unlimited forecast maps
No
Yes
Email forecast alerts
Yes
Yes
Features powered by PRO models:
Windguru free
Windguru PRO
Windguru spot forecasts
Yes (but 12 hours older) *
Yes
Custom spot forecasts
No
Yes
All PRO model forecast maps
No
Yes
Archive / Statistics
No
Yes
Email forecast alerts
No
Yes
Windguru free
Windguru PRO
Catch good wind
Sometimes
More times
*) The forecast models usually update 4 times per day (every 6 hours) so "12 hours older" means that for free users the WRF (PRO) powered forecast is available, but it is 2 model cycles (12 hours) behind the current one. PRO users always see the most up-to-date forecasts.
References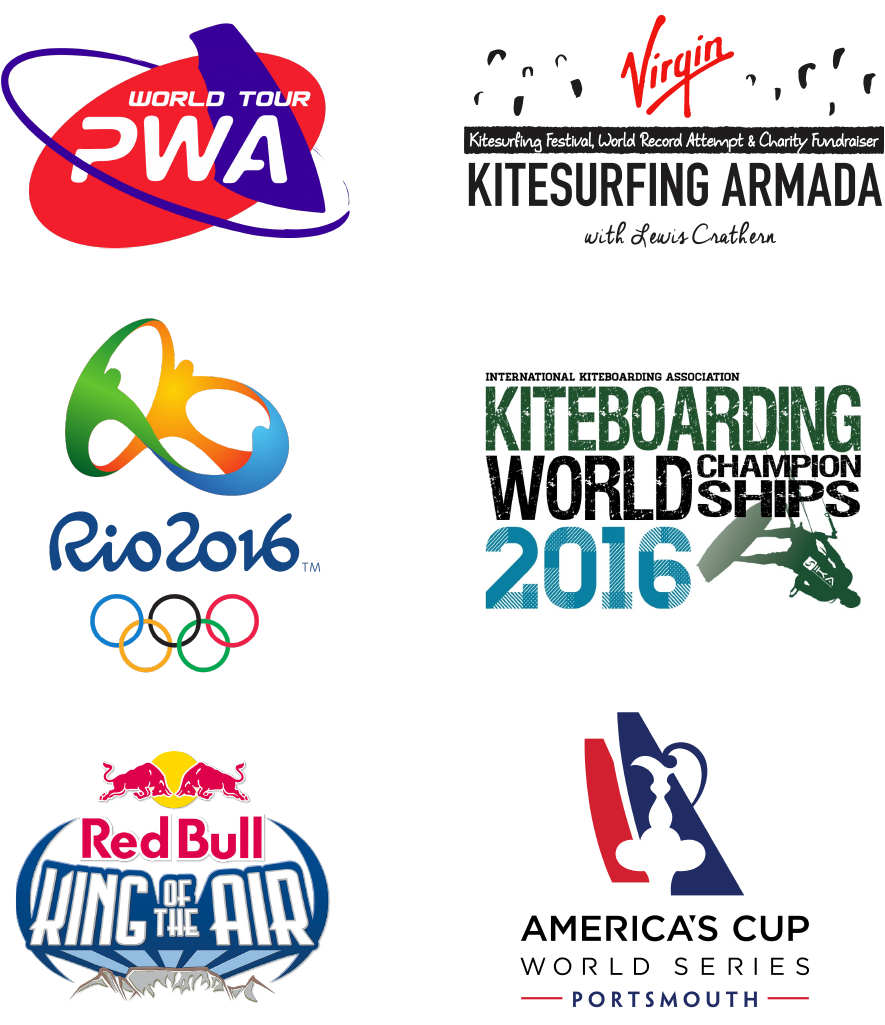 Become a PRO user
Windguru PRO is already used by many event organizers, PWA, America's cup, Red Bull King of the Air and more...
Join the Windguru family!
19.90 € / year
34.90 € / 2 years
2.90 € / month
BUY PRO NOW
(All subscriptions are Non-Recurring / One-Time payments)